Medical Emergency
First Aid
Minor medical problems can usually be dealt with at a pharmacy. Pharmacies are open on weekdays from 8:30-17:30.
If the pharmacy is closed, you will find on the door a list of the nearest pharmacies that are open.
In case of emergency, you can get treatment in hospitals, which are open 24 hours a day.
First Aid is called EHBO in Dutch (Eerste Hulp bij Ongelukken) and the emergency service number is 112.
Via home doctor (GP)
If you already have your own GP (huisarts) , contact him/her first.
In case the GP cannot be contacted, call Huisartsenposten.
Huisartsenposten will introduce you to  a doctor in service or a pharmacy.
Huisartsenposten Amsterdam:
Tel: +31(0) 88 – 003 06 00
Huisartsenposten Amstelland (Amstelveen):
Tel.: +31(0)20 – 456 2000
Major hospitals in Amsterdam area
Amsterdam UMC location AMC
Address: Meibergdreef 9
Tel.: +31(0) 20 – 566 91 11
Website: www.amsterdamumc.nl
VU Medical Center
Address: De Boelelaan 1117 – 1118
Tel.: +31(0) 20 – 444 44 44
Website: www.vumc.com
Amstelland Hospital
Address: Laan van de Helende Meesters 8
Tel.:  +31(0) 20 – 755 70 00
Website: www.ziekenhuisamstelland.nl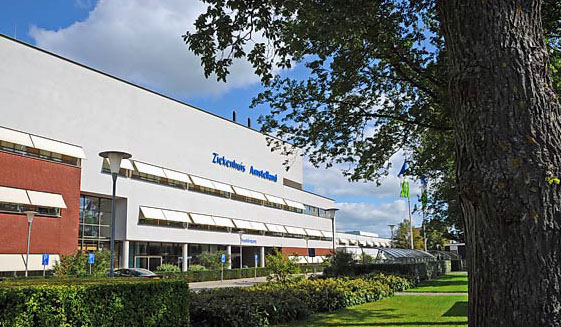 Amstelland Hospital
Hospital Amstelland in Amstelveen provides medical assistance for the inhabitants in the Amstelveen area  including Amsterdam. Expatriates from other areas of Holland are also welcome to this service.
Medical advice can and will only be given by authorised medical staff members of the hospital.
In all circumstances we recommend you to be registered to a home doctor/general practitioner of your choice and only call the Amstelland Hospital number, if hospital care is needed and a medical specialist is necessary.
Japan Desk
Ziekenhuis Amstelland is provided with a Japan Desk service, in order to assist the growing Japanese expat community.
Employees of the Japan Desk support Japanese expatriates with making appointments on the policlinic and support and translation during the actual visit.
For more information, please contact the Japan Desk.
Ziekenhuis Amstelland – Japan Desk
Space B004, nearby the main entrance
Tel.: +31(0) 20 – 775 71 46